ROPAT Sas was founded in 1996 with the mission to  research, develope and create innovative technologies, systems and products. ROPAT founder and CEO Robert Niederkofler developed a new concept  to harness  wind energy from the movement of a turbine on a vertical axis. His vision was to bring renewable and distributed energy to remote areas of the world: Telecom stations, refuges, schools and villages not conntected to the grid.

ROPAT 1997 – Refuge Cima libera    
The first 3 kW systems were installed in 1997 on the Cima libera refuge (3.152m asl), the Sennes refuge (2.126m asl) and in Antarctica. In close collaboration with the CNR (Italian Research Institut), the three systems were  monitored  in their extreme cold weather and wind conditions. . From  these initial  installations, ROPAT  acquired years of relevant technical and scientific know-how that was transferred in 2001 into newly established  Ropatec Srl. Over the course of the next 15 years , Ropatec developed, manufactured turbines that ranged  from 1 kW to 30kW and sold over 1200  in over 30 countries for off- and on-grid applications for Research Institutes (IT-D-ES-FRA), government organizations (United Nations, Greenpeace, etc.) private businesses  and large companies such as Ericsson, T-Mobil, McDonald's, Mediaworld, Audi, B&Q, Volvo, NH Hotel, Erdal, and Aldi Süd. This success positioned Ropatec and its CEO Robert Niederkofler (2007-2015) as industry leaders   in  renewable energy and distributed microgeneration winning the Ecomondo awards in 2009, the European Business Award and Telemaco / Il Sole 24 ore in 2012 and again the European Business Award in 2015.   In 2007 Ropatec led the efforts to pass a law  to support small wind generation, as well as the company  invited to world congresses (1st Smart Grid Congress in Washington in 2008, House of Commons London 2009, 1st Congress on Distributed Microgeneration – Brasilia in 2012, Desertec – Berlin, South Africa, USA and others.
The evolution of ROPAT and Ropatec wind turbines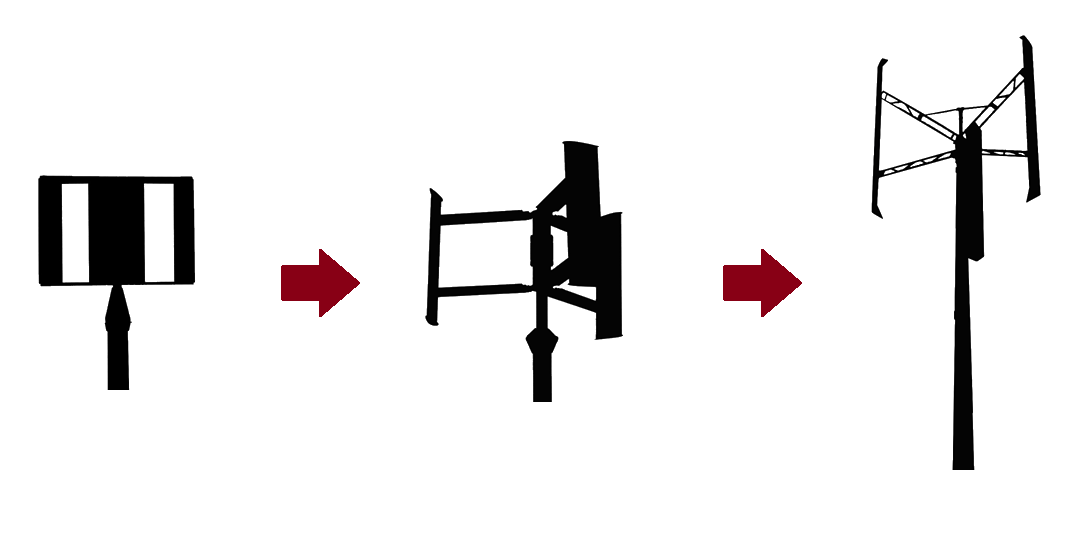 ….from Savonius to Darrieus design